The Epistemic Role of Diversity in Juries (1.0.0)
This model is linked to the paper "The Epistemic Role of Diversity in Juries: An Agent-Based Model". There are many version of this model, but the current version focuses on the role of diversity in whether juries reach correct verdicts. Using this agent-based model, we argue that diversity can play at least four importantly different roles in affecting jury verdicts. (1) Where different subgroups have access to different information, equal representation can strengthen epistemic jury success. (2) If one subgroup has access to particularly strong evidence, epistemic success may demand participation by that group. (3) Diversity can also reduce the redundancy of the information on which a jury focuses, which can have a positive impact. (4) Finally, and most surprisingly, we show that limiting communication between diverse groups in juries can favor epistemic success as well.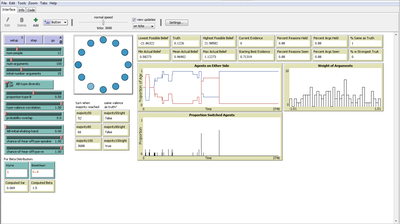 Release Notes
first release
Associated Publications
In press.
---
This is a companion discussion topic for the original entry at
https://www.comses.net/codebases/45ed1706-c1c7-45ad-a9a8-9392e298b947/releases/1.0.0